Omnis Mus
'no debits or credits' Accounting Software
Doing a Problem: Step by Step | Documentation | Accounting Problems
Omnis Mus Site Map | Run as Web Page | Search Site
---
Omnis Mus features 'no debits or credits' journal entries as well as traditional journal entries using debits and credits.
Omnis Mus is a complete, stand-alone package. No other software or supplement is required.
The software includes accounting cycle problems of varying complexity.
Omnis Mus is licensed for usage upon payment of a $5.00 per user registration fee or the acquisition of a site license.
Dual Format Presentation of Journal Entries
Journal entries can be entered using Transaction Analysis format (i.e., positive/negative numbers) or Debit Credit format.
Example: Payment of an Expense in Cash
Transaction Analysis (+/-)
Debit Credit
Expense +50.00

Cash -50.00

Debit Expense 50.00

Credit Cash 50.00
You can change formats WHENEVER and AS OFTEN as you wish, EVEN during the entry of a transaction!
Transaction Analysis format is consistently applied through the trial balance which shows either
Total Debits = Total Credits (Debit Credit format)

Trial Balance General Ledger Totals for Debit Credit Format

or

Total Assets = Total Liabilities and Total Equity (Transaction Analysis format).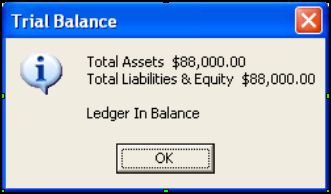 Trial Balance General Ledger Totals for Transaction Analysis Format
Structured design makes input easy and eliminates errors and unbalanced journal entries.
'One-Click' reversal of posted transactions (all journals) affords accurate and effortless error-correction.
'One-Click' Financial Statements.
Help is available in the program and also on the Web at Omnis Mus Program and Accounting Help
Documentation is available at this web site. Pages may be freely printed and distributed as necessary.
Run Omnis Mus
Please obtain a database before running Omnis Mus as the program MUST open a database to proceed.
Omnis Mus runs in your web browser.(Click here for link).
Grading Program
The grading program runs as a web page. It does not install on your computer
A detailed description of what it does and the link to run it is available at grade.cshtml
There is a solution database for each problem.
Solutions are available upon registration.
---
Registration
Instructors: Course Usage/ Site License
Registration is required for all students/users in a course--whether or not they run their own copy on a PC. Students who do not install/obtain their own copy can use Omnis Mus in a lab or on another student's PC.
Collect cash / individual PayPal™ payment
Acquire a site license!

An alternative to collecting the fee from students. Site License fees are paid by your school or department.
Site Licenses are available at a substantial educational discount.

Add a course registration fee.

Have the Registrar add a $5.00 course registration fee.
The University bills and collects the fee and forwards payment.
To register usage, contact : george@gbodnar.com